Employment Breakfast Briefing: Employee v Contractor?
18 September 2012
      
A FREE employment breakfast briefing on Tuesday 18th September 2012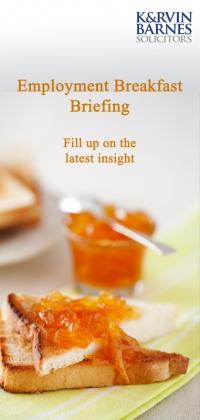 Topic:
Employee v Contractor?
We were running a FREE breakfast seminar entitled "Employee v Contractor" jointly with the accountancy firm Arram Berlyn Gardner and the organisation Women in Technology. The aim of the collaboration was to provide information on this topic from different perspectives ­- legal, accounting and tax.
From the legal-side: An individual's working relationship can broadly be categorised as employee, worker or self-employed. The categorisation is crucial to establish the applicable employment law rights. However, the label given to the relationship may be meaningless if the facts point to a different reality. Interestingly, status for employment law purposes may not be the same as for tax purposes.
In this free breakfast session, Gareth Kervin and Lucy Truscott from Kervin & Barnes explained these issues to you and the pitfalls for employers and employees to watch out for. Victor Dauppe from Arram Berlyn Gardner talked about the specifics of employee taxation – benefits, share and share options, national insurance contributions; the specifics of contractor taxation – payment in kind, national insurance contributions, VAT, business bank account and accounts preparation; IR35 and the new rules following consultation and the new 'off payroll' rules for controlling persons.
Speakers
Victor Dauppe, Arram Berlyn Gardner
Victor has been a tax partner at a top 20 accountancy firm in London since 1999 and has co-authored a highly respected book on intellectual property law.
Gareth Kervin, Kervin&Barnes
Gareth was recently recognised by the legal industry's foremost directory, Chambers and Partners, as a Leader in Employment Law.
Lucy Truscott, Kervin&Barnes
Lucy joined Kervin & Barnes after training at a US law firm in the City and working at the world's largest professional services organisation and has expertise in advising UK and international companies.
About Arram Berlyn Gardner
Arram Berlyn Gardner is a top 100 firm of London accountants, auditors, tax and business advisers. Based in a single office in central London, they are well placed to deal with the commercial and personal affairs of owner managed businesses and high net worth individuals. Arram Berlyn Gardner is committed to offering a proactive and value-added service and every member of their team possesses the drive and expertise to recommend innovative ways to add value to their clients' affairs.
About Women in Technology
Women in Technology is an information portal with the latest IT jobs, news, events listings and career advice for IT graduates and women. When one woman helps another, amazing things can happen. Professional careers leap forward. That's what Women in Technology is all about.