2012 – News Round-Up
30 December 2012
SRA In-house CPD Authorisation
10th January 2012
We are very pleased to announce that we are authorised by the Solicitors Regulation Authority (SRA) as an in-house CPD course provider which enables us to allocate CPD credit to courses we organise for our guests and clients.
Gareth Kervin negotiates terms for a departing director worth in excess of £1,500,000
23rd January 2012
Gareth Kervin, Partner at Kervin & Barnes, negotiated terms in excess of £1,500,000 for a Finance Director departing a London Hedge Fund.
The settlement involved payment of future losses, payment of deferred equity and the provision of "good leaver" status. The case involved FSA regulatory issues and complex loans and options under an EMI scheme.
Gareth commented, "The headline cash compensation of a settlement is often only the surface, the advantage of negotiating "good leaver" status is that it often results in a considerable extra cash value, has tax benefits and is often less "valuable" to the employing company than making an equivalent cash payment."
Kervin & Barnes Triathlon Team is raising funds for Help for Heroes
26th July 2012
Kervin and Barnes (International) Triathlon Team
Three of us will be attempting the Austria 70.3 Ironman (it's actually a half Ironman) on 26 August 2012 and we decided to raise funds for Help for Heroes.
Gareth said "The armed forces are increasingly visible in everyday life and they receive overwhelming support from society for the very challenging work they carry out. Unfortunately, what isn't so visible is the physical and mental suffering that is an inevitable consequence of their role. That suffering extends beyond the serviceman or servicewoman to their colleagues, family and friends. Often the consequences are permanent and a daily battle. Help for Heroes do an incredible job helping to rebuild lives and families long after the headlines have passed."
If you would like to sponsor our Triathlon Team, please click here.
Business Protection and The Hostile Employee…
24th October 2012
On 24 October 2012 we hosted a very well attended seminar "Business Protection and The Hostile Employee…" in which we looked at drafting points in employment documents which would reduce the risks posed by hostile or disloyal employees, including payment adjustments and enforcement of post-termination restraints.
"Informative, succinct"
Sandy Bissessur, HR Generalist, Dow Jones

Very good and very useful"
Craig Anderson, HR Director, Russian Standard

"Useful and gave some points on what may need to be addressed in current contracts"
Rebecca Poulton, HR Adviser, The MDU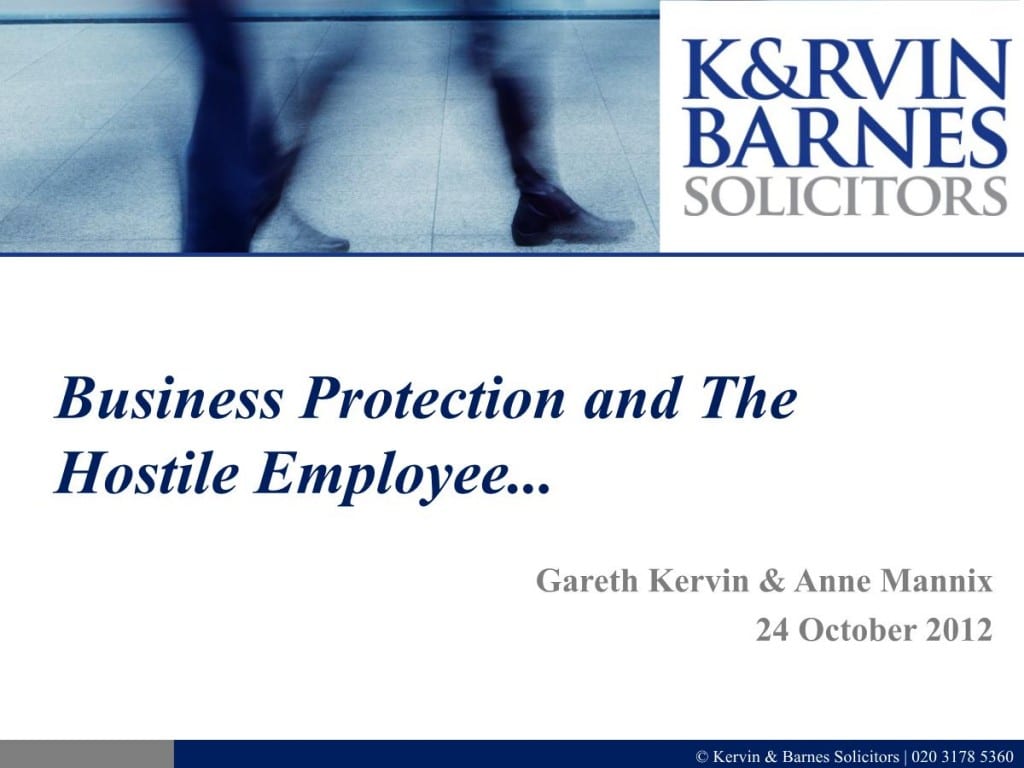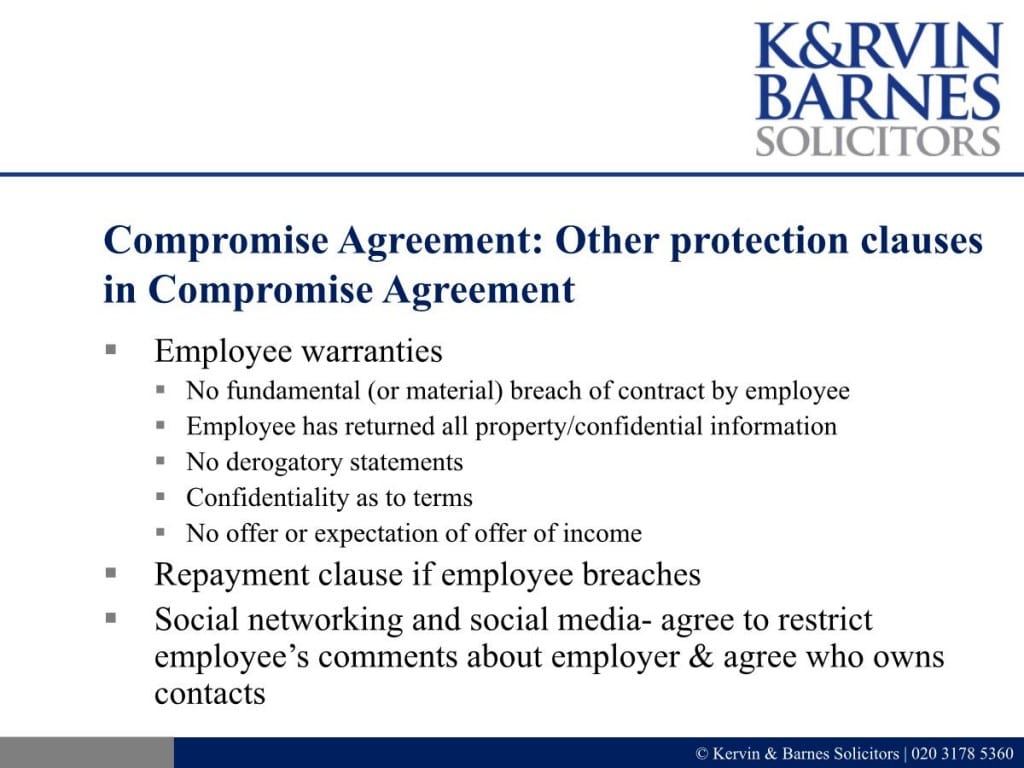 Gareth Kervin recognised by Chambers and Partners
1st November 2012
We are very pleased to announce that Gareth Kervin has been recognised by Chambers and Partners, the legal industry's foremost directory, as a Leader in Employment Law.
One of the motivations for starting this firm was to provide a high quality, partner-led service and recognition from this prestigious body is not only great news for Gareth personally and for this firm, but also acknowledges the support the firm has received from clients over the last few years.
Join us in extending congratulations to Gareth.